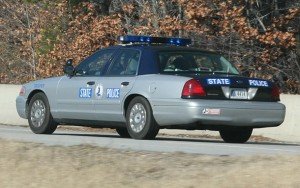 By Virginia State Police Public Relations Director, Corrine Geller
Virginia State Police have now charged a South Carolina man with two additional felony counts for his involvement in a shooting Christmas night in Spotsylvania County that led to the closing of I-95.
Jerrell C. Richardson, 21, of Greenville, S.C., has been served with one felony count of attempted capital murder and one felony count of use of a firearm in the commission of a felony.
These latest charges are in addition to his original charges of one felony count of eluding police, one felony count of assault on a police officer, possession of marijuana, driving without a valid operator's license, reckless driving and operating a vehicle without headlights. Additional charges are pending.
Richardson continues to be held without bond at Rappahannock Regional Jail in Stafford, Virginia.
The incident began at approximately 8:40 p.m., Dec. 25, when Virginia State Police received a "Be On the Look Out (BOLO)" bulletin from the Dinwiddie County, Virginia, Sheriff's Office for a 2015 Ford Escape.
At approximately 9:40 p.m., Henrico County Police and Virginia State Police troopers located the Ford Escape at a gas station at Chamberlayne Avenue and Route 1.
When the Henrico officer and a state trooper approached the Ford Escape, the suspect vehicle fled the parking lot. State Police initiated a pursuit of the suspect vehicle, which had been reported stolen at gunpoint at a gas station earlier Monday evening in Thomasville, North Carolina.
The pursuit continued north on Interstate 95 with the Ford Escape reaching speeds in excess of 120 miles per hour. As the Ford Escape entered Spotsylvania County, it rammed a state trooper's vehicle at least twice.
At the 119-mile marker, the driver, Richardson, bailed from the Ford Escape while it was still moving and proceeded to run on foot towards the median.
Richardson then shot at the troopers as they pursued him on foot. One trooper returned fire, but Richardson continued into the wooded median.
Interstate 95 was consequently closed in both directions for the safety of all motorists and a perimeter established to contain Richardson within the median. State police K9 and tactical teams along Fairfax County Police Aviation responded to the scene to search for the armed subject.
At approximately 12:50 a.m., Dec. 26, Richardson was located and surrendered to state police. He was taken into custody without further incident. State police did recover a firearm at the scene and marijuana from inside the stolen Ford Escape.
At the time of his arrest, it was discovered that Richardson had been shot during the exchange of gunfire with the trooper. He was immediately transported to Mary Washington Hospital in Fredericksburg, Virginia, for treatment of non-life threatening injuries. He was treated and released later Tuesday morning.
No Virginia State Police troopers or motorists were injured during the pursuit or shooting. The Spotsylvania County and Caroline County sheriff's offices responded to the scene to assist State Police.
The investigation into the incident remains ongoing at this time. State police are still working with multiple law enforcement agencies in South Carolina, North Carolina, and Virginia concerning criminal incidents involving the male suspect.
Correction: Headline has been changed to say "attempted" murder.