Patriot High School students will be performing "As You Like It" Nov. 14 at 7 p.m. and Nov. 16 at 1 and 7 p.m. in the school's theater.
"Unofficially, I have a rule that I do a classical piece and a contemporary piece alternating years," said Director Kathryn Facemire. She said she chose "As You Like It," since she knew she wanted to do a Shakespearean comedy that is not often done on the high school stage.
Performing in a Shakespearean play is not easy; it requires both comprehending and memorizing difficult, often antiquated, dialogue. However, Facemire felt her 40-person student cast was up to the challenge.
"I knew I had a really strong group of students," she said.
She also knew her standout leads could tackle the especially difficult roles in the play, such as senior Brittany Clark, who plays the role of Rosalind, an aristocratic lady who pretends to be a man after being banished to the forest.
"In a way it's not too different, said Clark, who was cast as Mercutio in the school's production of "Romeo & Juliet." To transform herself from performing as a female to performing as female pretending to be a male, Clark focuses on the physicality of the role.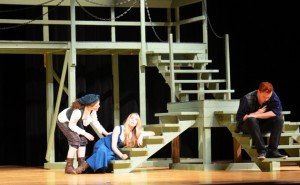 [/caption]
"I walk differently, present myself different," said Clark, who adds she even sits differently. "There is a walking exercise I've done. You change something about your feet, and it changes your whole body," she said.
Clark thanked Facemire, who taught her the transformative acting techniques.
The next great challenge for Clark was committing to memory all of Rosalind's lines penned by the Bard in the Elizabethian tongue. To accomplish that mammoth task, Clark relied upon modern technology, recording her voice and playing it back over and over again: another technique to which she credits her director for teaching her.
Junior Ben Johnson who plays Orlando DeBoys, Rosalind's love interest, said his challenges also included physicality and dialogue, but ultimately he used both to reinforce the other. Johnson learned to use his expressions and body language to help the audience interpret difficult dialogue and stay engaged during long monologues.
However, before being able to respond aptly to the script, Facemire held sessions with principal cast members in which they discussed what the dialogue meant. Facemire said she wanted to make sure they were not faking it, but first really understood the jokes and the messages they then had to present to the audience.
For sophomore Emily Ringham, whose childhood illness left her using a wheelchair and speaking in a distinctive tone, playing an old man allowed her to use her differences to her advantage as an actress.
Ringham said, while the old man often hobbles behind, they thought it would be funny to have his partner sometimes run off, forgetting him on stage.
"The theatre department uses my wheelchair as a prop," she said.
Ringham said it was initially difficult to project her voice, but she has been improving through practice.
But beyond the classic presentation of the play, Facemire also wanted to infuse a little bit of pop-culture.
Facemire, being a teenager of the 90s incorporated alternative music to lyrics Shakespeare included in the play. She expects audience members will recognize familiar melodies from Bush, Soul Asylum and Live.
Lastly, in the costuming, she mixed the grunge era plaid with a bit of a steam punk flair, while still incorporating medieval and renaissance pieces. That design, incorporated into costumes, set, design and props gives a more pop-culture, sci-fi feel to the otherwise historical comedy.
All together, it creates a unique approach to Shakespeare, which teens can appreciate, while teaching them that directing a play means putting your own mark on it.
Facemire expects the play to be a success, saying "My expectations are always extremely high," for her cast, but she finds they rise to the occasion.
Come early, tickets will be sold at the door.