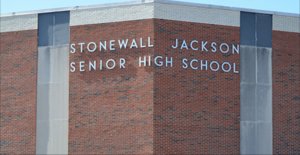 Prince William County School Board Chairman Ryan Sawyers announced his proposal to rename Stonewall Jackson High School and Stonewall Jackson Middle School in Manassas after the fallen heroes at Charlottesville.
The announcement came Aug. 16, days after the tragedies that rocked Charlottesville and the nation. Like Robert E. Lee, "Stonewall" Jackson was a highly lauded Confederate General.
Sawyers said the name change will reflect Prince William County School's commitment to the safety, during tumultuous times, and reflect the diversity of their students and staff.
To reduce the cost to the school division, he has launched a GoFundMe page where citizens and others can donate to cost to rename the schools. Donations have already passed one thousand. The goal is to raise $750,000.
Trooper Berke Bates, 40, has a connection to Prince William County School. He grew up in Nokesville, and graduated from Brentsville District High School in 1994.
Sawyers, who hopes to become the Democratic nominee to represent Virginia's First District in Congress, said he plans to work with community members to get them on board with the effort.
Two years ago, the board was criticized for not doing so before voting to rename Godwin Middle School to Hampton Middle School. Governor Mills Godwin (1914-1999) was a segregationist for much of his political career.
Sawyers does not feel Jackson should be honored for similar reasons: because it promotes racial discrimination and inequality.
Thomas "Stonewall" Jackson helped to defeat the Union Army at nearby Bull Run Battlefield, making him a local hero; however, Sawyers sees it otherwise.
"Stonewall Jackson died defending the perverse institution of human ownership," Sawyers said.
As Confederate statues were erected after the era of reconstruction, Sawyers said the naming of the two schools was largely a response to the civil rights era.
These schools were named in a time when Brown v. Board of Education, integration, and the Civil Rights Act were being implemented across our country. Under the false rhetoric of 'heritage,' these schools were, in fact, named after a Confederate icon as a "thumb in the eye" to Federal actions ending their continued racial segregation of public schools.
Sawyers' actions are a direct response to the "Unite the Right" White Supremacist/Alt Right/ White Nationalists rally in Charlottesville, and the resulting deaths and violence. The incident has sparked a chain reaction throughout the south with many  cities and jurisdictions considering how to address their Confederate monuments.
Addressing the Commonwealth's dark history is not new to Sawyers; besides the Godwin renaming, Sawyers gained a recent victory in adding LGBTQ students and staff to the division's non-discrimination policy despite controversy over transgender bathroom use.
The proposal to rename Stonewall Jackson High School and Middle School could cause a similar pushback. Sawyer's GoFunMe page is riddled with negative responses, and Stonewall Jackson has a large alumni base. But, it has also received many positive responses.
Both schools are minority-majority schools, and Sawyers does not want modern students to receive what he believes is the wrong historical message. He also argues Confederate monuments have become magnets for hate groups, raising safety issues.
But Sawyers' opposition has argue in the past that tackling controversial issues distracts from the normal business of the school board, which is to focus on education.
Regardless of the opposition, Sawyers may have the political capital to approved the changes. The board consists of five Democrats, including Sawyers. Three of are African American decent and one is a former Northern. Unless they object to a mainly progressive issue, the changes could become a reality.