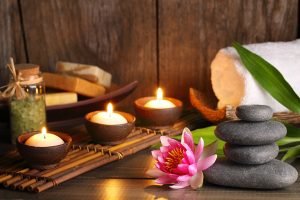 By Stacy Shaw
Mystic Flow Wellness Center may be the best-kept secret in Gainesville. A spa focused on wellness, it offers a holistic approach to health, relaxation, and mental clarity, offering services for mind, body and spirit.
In addition to popular offerings such as massage, Mystic Flow Wellness Center is one of the only facilities in the region to offer unique services such as sensory deprivation float and spiritual therapies.
At Mystic Flow Wellness Center the focus is on "balance, clarity and harmony." Balance services include float, massage, hydro massage, foot detox and infrared sauna. Clarity include a variety of mental and spiritual forms of therapy, and Harmony focused on the flow of energy throughout the body for optimum health. They also offer natural healing services and workshops.
Owners, husband and wife team, Derreck and Adriana Benoit wanted to fill a need in the community and provide a means for the busy people in Northern Virginia to relax and rejuvenate.
As the owner of the Daytime Playtime, a daycare and preschool in Gainesville, Adriana regularly witnessed parents for whom stress is a constant.
"I realized I had to help the parents," she said. "When you have a stressed parent, you have a stressed child. Kids know it. They know your energy."
She started with traditional services such as massage. Mystic Flow Wellness Center has an array of massage treatments including Swedish, deep tissue, relaxation massage and hydro-massage.
Because Adriana studied therapy and psychology, she wanted to address mental wellbeing. She hopes to also educate her clientele about adopting a lifestyle of holistic wellness.
As Adriana looked to promote mental health, Derreck, who previously owned a health club in Gainesville, wanted to promote physical wellbeing, knowing the two go hand in hand.
"We are very different," said Derreck, "but we both enjoy helping people. We just didn't know how to bring it together."
Then Adriana visited a spa and floated in a sensory deprivation tank. It was a transformative experience that left her relaxed and rejuvenation.
"That's it!" they thought; that is the direction they wanted to take the wellness center.
Derreck loves floating as well, and thought it would be an invaluable resource for athletes. Plus he saw something sublime about it. "You get in a time warp when you're in there," said Derreck, "and people love it."
They recommend massage therapy and sensory deprivation therapy for a number of conditions. People with autism find it wonderful to escape from stimuli. It is great for athletes, CEO, people with depression or PTSD to clear the mind and reinvigorate.
Adriana explains that it activates the parts of the brain that have lied dormant, giving way to potential.
To help promote mental wellness and spiritual peace, Adriana also ventured into "new age" therapeutic services. She works with people who can help others break away from their harmful patterns.
Those various forms of "clarity" therapy, "delete things that are in your subconscious," which Adriana explains, may hold one back in the present. "[It breaks through the] mechanisms that keep you from making your dreams come true. It's pretty liberating," she said.
It helps people to realize what is important to them. "We live in a society where we don't really do what we want to do, we do what we think we should do. It's okay to be different; it's okay to be who you are."
Mystic Flow Wellness Center clarity and coaching services include reiki, chakra balancing, hypnotherapy, light therapy, constellation therapy, emotional freedom techniques, rebirthing and Feng Shui consulting. They also have classes and seminars.
Re-connective healing using light therapy also helps to increase clarity, promote energy, accelerate personal evolution and ease symptoms of fatigue, pain, stress and depression.
If you have questions, give them a try, said Adriana. She believes the methods help people take the next step in becoming more of their authentic selves without all the baggage.
"It gives that push to people that they don't have to keep up to have the life they deserve," and helps them release "victim" or "that's unfair" mentality
One will be better able to regulate his or her emotions. "I think it's still okay to feel those things," she said. "but figure out why your angry, and then let go of it; it feels great to be happy."
Derreck said he used to have a traditional straight and narrow view of life, but that has changed. "I was a man of science. Until I met her, I was more close-minded. She has taught me a lot."
Mystic Flow Wellness Center offers packages and gift certificates that do not expire and are transferable.
Mystic Flow Wellness Center is located at 6884 Piedmont Center Plaza in Gainesville. Its hours are 10 a.m. to 9 p.m. Monday through Saturday and 10 a.m. to 6 p.m. on Sundays.
Call  571-284-7612 to make an appointment, or visit their website and Facebook page.
Open Mother's Day!
Sponsored Content