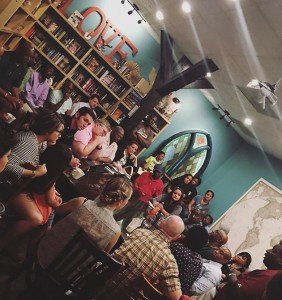 "Community Forum" at Jirani's Coffeehouse in Manassas, July 11, 2016.[/caption]
Jirani's Coffeehouse in Old Town Manassas held a "community forum" Monday night, in which African Americans and community members of all ethnicities held an open dialogue about race and community policing.
Another community form is scheduled for this Monday at 7:30 p.m. 
The gathering allowed community members to discuss issues that arose following the deadly shootings of Altin Sterling and Philando Stile by police officers, and the shooting of four police officers at a protest in Dallas.
Among those in attendance were Manassas Police City Captain Tina Laguna, Sergeant Christopher Shields, city council members* and representatives of various local religious organizations attended.
Jirani's owners, husband and wife team Ken and Detra Moorman, sought to encourage people to discuss what they had been thinking and feeling over the past few days.
They also sought to create a means for the police to converse with community members.
According to Ken Moorman, it began when a young African American man came into his coffee house, Friday, saying, 'I'm really upset. I want to do something.'
The Moormans realized they were in a unique position to bring people together as they have strong ties to the police, city government, faith-based organizations and the business community.
Additionally, they felt Jirani's was the perfect venue to hold such a gathering, as the cafe was intended to do more than just serve coffee and food, but to be a community meeting place.
Ken told the young man: "I'll promise I'll get people in here who will listen."
Not knowing if he would bring in two people or two hundred, Ken proceeded to text people and post the event on Facebook.
Monday night, approximately 50 gathered at the café located across from the commuter station to engage in an honest discussion.
Ken said there was little to no tension at the gathering; instead, a spirit of unity prevailed. Essentially, community members came asked police: what do we need to do? And police listened to their concerns.
Detra acknowledged it would be naïve to assume they solved any deep rooted racial divide in a matter of hours; however, she believes they gave people something that was non-the-less important: the opportunity to have the discussion they desperately wanted to have.
"I believe people wanted to be heard. This started the conversation," she said.
Ken noted people of all ages were in attendance, yet they all had similar concerns.
Parents wanted to know: what do they tell our kids? Our young men? While no one wants to teach their children to be fearful of the police; parents felt they did need to teach their children to be extra cautious.
African Americans have always been concerned about racial profiling, the Moormans explained, but recently, the national news has them greatly concerned.
"The fear everyone has is of things going back to the way they were [in the late sixties with racism and civil unrest]. We don't ever want to go back to that, but things have gotten more and more out of control."
The Moormans explained they were reassured by the discussions they had with the police that evening.
Not only did Manassas City Police Officers hear their concerns, but they were able to speak directly to the Sgt. Shields who trains officers on how to approach drivers and how to respond in self-defense.
The gathering also proved to be greatly cathartic for the community.
"It was magical- just all of us together, hurting together," Ken said, explaining he did not only mean African Americans, but everyone.
"You could feel the heaviness in the city," he said, noting that even before the cops were shot in Dallas, he recognized that the people all over the city appeared to be in mourning. He estimated that at least 80 percent of them were white people.
"I could feel everyone hurting, but they didn't know what to do or what to say, or if it's was even politically correct to talk," Ken said.
For that reason, Detra felt it was so important they step up and facilitate the conversation.
"We should be doing something," she said. "We have the venue. We can't fix it, but we can talk about it."
Detra applauded her church, Chapel Springs, for having a conversation, Sunday morning that encouraged those in attendance to ask their neighbors: "What's it like to be an African American in American?"
It is something we should be asking each other, Ken said, not limiting the conversation just to African Americans, but asking everyone what their personal experiences are, what trials and biases they have faced.
Detra thought it was amazing that there was no tension in the meeting, only a sense of urgency to bring about change.
Residents shared experiences of not only what it is like to be a person of color in Virginia, but in New York City or the deep South. Each presented its own challenges and advantages.
Police offered various ways for community members to feel more comfortable with their policing from "police academies" for young people to ride along opportunities.
"What I loved about this is our police officers were there cool, calm and collected, getting the youth involved," Detra said.
Since Monday evening, the Moormans have been contacted by more community members wanting to participate in another community forum. As a result, they have scheduled another community forum for July 18 at 7:30 p.m.
Additionally, they will continue to offer Jirani's Coffeehouse as a place to bring community together, through coffee, food, entertainment and conversation.
Correction: Mayor Hal Parrish was unable to attend the first meeting as it coincided with a city council meeting. He did attend the second meeting.