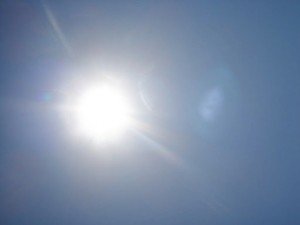 Residents of Prince William County, the potentially hottest day on record will also include dangerous air quality.
An Excessive Heat Warning remains in effect for 11 a.m. to 10 p.m. on Saturday. The National Weather Service warns that the area will experience maximum temperatures from the 100 to 105 degrees with heat index values up to 110 degrees.
"An excessive heat warning means that a prolonged period of dangerously hot temperatures is expected. The combination of hot temperatures and high humidity will combine to create a dangerous situation in which heat illnesses are likely," NWS said.
NWS has also issued a Code Red Air Quality Alert due to high concentrations of pollutants in the air. This means everyone may experience adverse health effects from being outside, especially the elderly, children and those with breathing problems.
Saturday will mark the tenth straight day that temperatures exceeded 95 degrees in the region, officially setting a local record for the longest number of consecutive days of oppressive heat. According to WTOP, the second longest heat wave was eight consecutive days in 2002. (The current record high temperature was 102 degrees in 2002.)
Experts suggests that residents take precautions if spending time outdoors, including:
Stay hydrated and drink plenty of water

Dress in lightweight and loose-fitting clothes

Make attempts to remain inside in air-conditioning

Know the signs and symptoms of heat stroke

Limit physical activities

Check in on relatives and neighbors
According to NWS, showers and thunderstorms are likely on Sunday after 2:00 p.m., with a high near 98 degrees and  heat index values as high as 105. Some of these storms could be severe and feature damaging wind gusts and large hail.
A cold front is expected to push across the area early Monday morning, bringing lower temperatures throughout the week.
For advice about how to hep your pets cope with the hot weather, click here.